Wael Al-Delaimy, MD, PhD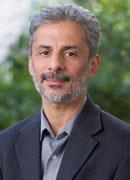 Profile

Wael Al-Delaimy, MD, PhD is a Professor in the Division of Global Health in the Department of Family Medicine and Public Health. Dr. Al-Delaimy is a multidisciplinary epidemiologist with a medical background and interest in the epidemiology of chronic diseases, tobacco, and diet. He practiced medicine in his native Iraq and then Jordan between 1991-1995 before finishing his Ph.D. from Otago University in New Zealand in 2000. He was a Research Fellow and Research associate at Harvard School of Public Health between 2000-2004, a scientist with the International Agency for Research on Cancer in 2003, and a faculty member at UCSD since 2004 as an Assistant, Associate, and Full Professor.
Research

Dr. Al-Delaimy's global research activities are in tobacco, cancer, respiratory diseases, ethics, human rights and public health advocacy, and refugee health. He is also involved in academic and research development in the Middle East. Global environmental health is another focus of Al-Delaimy where he worked in the US/Mexico border area on pesticide biomarkers, and soil and water contamination as Co-director of Community Engagement and Translation Cores for the UCSD Superfund Project. He is also pursuing projects with collaborators at the Scripps Institute of Oceanography about the influence of indoor air pollution on health of women in low-income countries, especially India.
International Health
Mental Health
Epidemiology
Alcohol,Tobacco, and Other Drugs
Environment